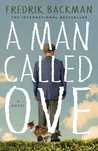 A Man Called Ove by Fredrik Backman
My rating: 5 of 5 stars
Call Ove ( pronounced as a soft 'ooh' + 've' as in vegetarian, it tried my best but I am not so good with Swedish pronunciation ) a curmudgeon, a grumbler, or a Grinch, but I bet he will have you loving him like your own loved one by the end of this book. Because he is the Grinch with a "large" heart (both literally as well as metaphorically). This book is full of dry humour and dull prose for most of the part, both of which I stay away from when I select books. I know it is not a very good analogy, but the prose in the book reminds me of Ikea furniture, straight lines, right angles and simple form. It is most definitely not an easy book to start. You might want to give up after a couple of chapters, but if you persist, you are in for a treat. Midway in the book, the curmudgeon will stop appearing irritating to you, I promise. Instead, he becomes someone you are scared of turning into as you grow old. And by then, it will make you hug your loved ones tighter, that's guaranteed.
Ove is a fastidious, a-stickler-for-rules-even-on-his-death-bed, ever irritated old man who stopped living the day Sonja, his wife died. His daily routine is checking up on things and judging people based on the make of their car ( "How do you reason with a man who drives a BMW / a Volvo?", unlike Ove drives a Saab ) to name a few. I won't be amazed if you wonder, is it possible for someone to love Ove? Was he any different in his youth than he is today? But trust me, this very book, full of dry prose, boring routines and perpetual grumblings, is also full of love. And the best kind, if you have any doubts. for example, this is what sums how beautiful his and Sonja's relationship.
Quoting the book:
He never understood why she chose him. She loved only abstract things like music and books and strange words. Ove was a man entirely filled with tangible things. he liked screwdrivers and oil filters. He went through his life with hands firmly shoved in his pockets. She danced. She said, 'You are dancing on the inside, Ove, when no one's watching. And I will always love you for that. Whether you like it or not.'
After a series of unsuccessful attempts at dying, he finds himself surrounded by a woman, Parvaneh, who is a new immigrant in the country, her husband, her kids, and some neighbours who achieve the amazing feat of getting this stubborn old man, who has his mind set upon dying to start living again. To know how, you better read the book, because I don't want to spoil it for you. Also because, in the book, who also have a young Ove, who travels 2 hours each day in opposite direction of travel, just because he fell in love with the way Sonja smiles. And his life was never the same again.
Tell me, how do you give up on a book that says this:
Ove closes his eyes and thinks of Sonja. Its not that he's the sort if man who gives up and dies; he doesn'tvwant her to think that. But it's actually wrong, all this. She married him. And now he doesn't wuite know how to carry on without the tip of her nose in the pit between his throat and his shoulder. Thats all
I have cried so many times while reading this book. And yet I kept coming back for more. It's not because I am masochistic or something, but it defines love for me like nothing else does.
I loved the book so much that I was curious to know what people did not like about the book. I read up some reviews. Some people criticise that Ove would not have survived in the real world, no one would stick up for a man like Ove. But it doesn't matter to me though. Because my takeaway from the book is not whether or not, it is realistically possible to live like Ove. It is the fact that we all are far more judgemental than we know. You, me and even Ove is, a little judgemental, to be honest! We take people's words at their face value instead of their actions.